Our domiciliary care services provide a viable solution for individuals requiring assistance to remain safe and comfortable in their homes. Our experienced carers will work around the clock to ensure that our clients receive the support they need at the time they need it the most. Our comprehensive range of services includes personal care, medication assistance, meal preparation, cleaning, and companionship.
Based on the evaluation of our managers, we will create a care plan that is tailored to the individual's needs and preferences. Initially, the visits may be brief, lasting only half an hour, one or two times a day. As time passes, we can expand our services to include sitting services, two caregiver visits, overnight stays, or round-the-clock care. Our team at My Homecare is well-trained to offer exceptional care services in all scenarios.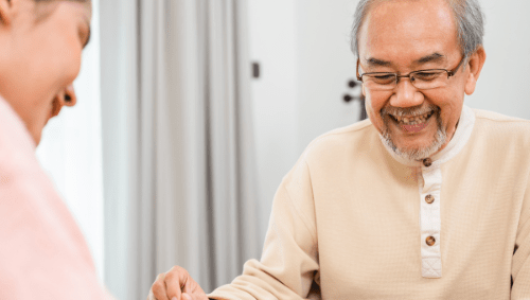 Home care services offer the additional assistance you require to remain in your preferred place of residence – your home. Domiciliary care services include aid with daily tasks, personal care, and social visits. Our home care services are customised to meet your specific needs, providing an excellent alternative to residential care homes.
Our home care services go beyond providing support at home. We aim to assist you in living your life on your own terms. We can accompany you to doctor's appointments, shopping trips, and social gatherings with your loved ones. Our services are designed to promote independent living, giving you and your family the reassurance you need to stay in your own home.
How can home care help me?
At CSM Care Services, we take pride in creating a personalized home care service that caters to the unique needs of each customer. We understand the importance of feeling safe and comfortable in your own home surrounded by your cherished memories. Our domiciliary care services are highly flexible and can range from a simple check-in visit to 24-hour live-in care. Our home care service can be utilised as a short-term solution following an illness or as the beginning of a long-term care journey. Our dedicated team of home care assistants are fully trained to:
We can assist you with various tasks throughout the day to make your life easier. This includes helping you get ready in the morning by assisting with washing, dressing, and having a nutritious breakfast. We can also remind and assist you with taking any necessary medication and even collect or return it for you. Mealtime is covered too, as we can prepare meals with or for you and assist during mealtimes. Outings are no problem, we can help with tasks such as collecting your pension, shopping, and putting everything away when we return. Household chores are also included, as we can help with laundry, ironing, and keeping your home clean and tidy. Social outings are important too, and we are happy to support you with activities such as going for walks, attending day centers, visiting friends or family, or going to your church or club. When you need a little pampering, we can also help with personal care tasks such as bathing, clean clothes, fresh bedding, and a thoughtfully prepared meal before bedtime. Finally, we can assist with getting ready for bed at the end of each day.